Carolyn Christov-Bakargiev: On the Destruction of Art - Or Conflict and Art, or the Art of Healing (Paperback)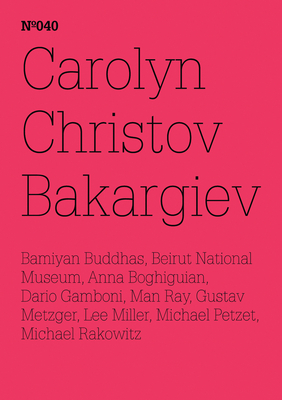 Email orders@wordupbooks.com for price.
Description
---
Carolyn Christov-Bakargiev reflects on the relationship between destruction and art, and on art's converse capacity for healing. Guiding us through a web of etymological, historical, philosophical, personal and art historical references, she takes the reader from Melanie Klein's ideas on the dyadic relationship between mother and child and Walter Benjamin's reflection on Klee's "Angelus Novus," to Man Ray's metronomes and Objects of Destruction, Lee Miller's photographs from the end of World War II, Gustav Metzger's "Manifesto of Auto-Destruction" and the destroyed Bamiyan Buddhas, which are accompanied by Michael Petzet's report of ICOMOS's response to the monuments. Also included are artworks by Michael Rakowitz, drawings and poems by Anna Boghiguian and a postscript by art historian Dario Gamboni on the concept of "world heritage" and its attendant legislation. For Christov-Bakargiev, "the sphere of art is poised on the edge of the private and of history, and becomes the location where one can experiment the possibilities of being on the edge of the anthropocentric, where the rubble lies.