World Myths and Legends: 25 Projects You Can Build Yourself (Build It Yourself) (Hardcover)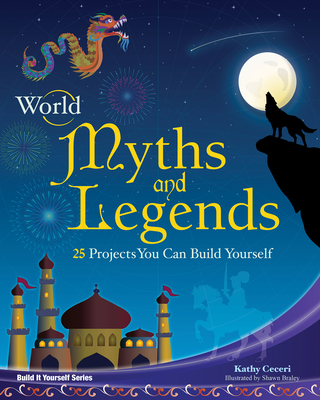 Email orders@wordupbooks.com for price.
Description
---
All societies have their own myths and legends, but they're much more than just stories. Myths and legends tell us about a people's history, science, and cultural values--the things they knew, the things they believed, and the things they felt were important.
World Myths and Legends
retells tales from the Middle East, Europe, Africa, Asia, Australia, and the Americas. From the Greek myths to ancient epics like Gilgamesh and the trickster tales of Anansi the Spider, it helps readers think about why the same themes, characters, and events may show up in different parts of the globe. Along the way kids will also find lots of fun and interesting projects that let them experience the stories first-hand.
World Myths and Legends
unveils wonders of the ancient world as it takes readers on a fascinating adventure of mystery and imagination.
About the Author
---
Kathy Ceceri is About.com's Homeschooling Expert and a fan of art mixed with science. Her books include Robotics: Discover the Science and Technology of the Future, named "Best of the Best" by the Chicago Public Library, and Geek Mom: Projects, Tips, and Adventures for Moms and Their 21st-Century Families. She lives in Upstate New York. Shawn Braley is an award-winning illustrator. He attended the Joe Kubert School of Cartoon and Graphic Art, Inc. He specializes in cartoon and editorial illustration. Braley is also a world traveler, musician, cat owner, and comic art collector.
Praise For…
---
"An excellent introduction to the cultures and myths of a diverse selection of peoples, and one I highly recommend to home-schoolers in particular . . . The projects themselves are extremely varied, and go beyond simple craft-ness. For instance, one activity for the Greek section is to use Euclidian geometry to make an equilateral trianglefun with compasses!  Charlotte's Library Blog