Great Medieval Projects: You Can Build Yourself (Build It Yourself) (Hardcover)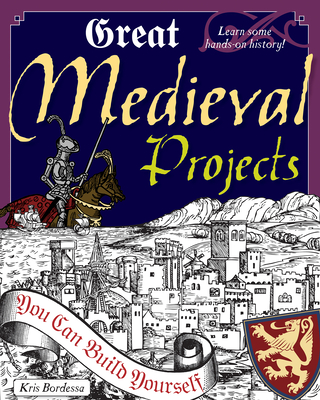 Email orders@wordupbooks.com for price.
Description
---
Great Medieval Projects You Can Build Yourself brings the Middle Ages in Europe alive through hands-on activities for kids ages 9-12. Addressing various aspects of medieval life, this book provides historically accurate details of the period leading up to the Renaissance. From monastic life to castle living, villages to towns, each section offers a glimpse into the daily existence of the people who lived in medieval Europe. Sidebars and fun trivia break up the text. Readers will expand their knowledge of this era beyond knights, fair maidens, and castles as they learn about siege warfare, life in a medieval village, medieval clothing, markets and fairs, the Plague, medieval medicine, and the Crusades.
About the Author
---
Kris Bordessa's work has appeared in more than 50 national and regional publications, including FamilyFun, Nick Jr. Family Magazine and Parenting. She is the author of Tools of the Ancient Greeks: a Kid's Guide to the History and Science of Life in Ancient Greece and Great Colonial Projects You Can Build Yourself. Shawn Braley is an award-winning illustrator. He attended the Joe Kubert School of Cartoon and Graphic Art, Inc. He specializes in cartoon and editorial illustration. Braley is also a world traveler, musician, cat owner, and comic art collector.
Praise For…
---
"Projects include making a trebuchet, marshmallow cannon, some period recipes, and a thatched roof. The material is well written and interesting . . . The directions for the projects are easy to follow . . . a useful text.  School Library Journal
"Much more than just an activity guide; we were fascinated by the amount of information presented in its pages . . . . Older children will be able to complete these [projects] with minimal oversight from parents."  Homeschooling Today
"This well written guide to medieval life not only teaches about the Middle Ages, but includes easy to do, interesting, and educational projects that illuminate each subject. . . . There is plenty of good history, easy to read, and sneakily educational."  Sacramento Book Review