Escape from Pompeii (Paperback)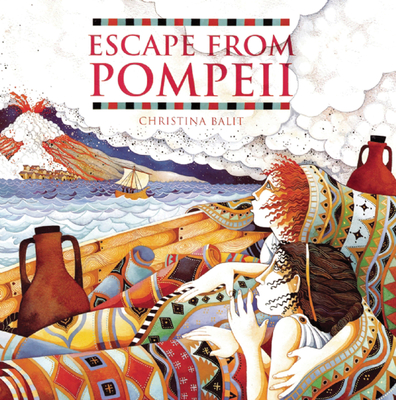 $8.99
Usually Ships in 1-5 Days
Description
---
Travel back in time to view the eruption of Mount Vesuvius in the Roman Empire.

Join Tranio, the son of an actor, and his friend Livia, the baker's daughter, in witnessing the eruption of Mount Vesuvius in AD79. Tranio, like most Roman boys, likes to watch whatever is going on: tradesmen selling their goods, ships unloading their exotic cargoes, politicians making speeches in the forum. But one hot August day a very different scene unfolds. The ground begins to shake, the sky to darken. Heading for the harbor, Tranio and his friend Livia hide on a boat and witness one of the most terrifying moments in recorded history-the eruption of Mount Vesuvius and the destruction of their beloved city, Pompeii.

Although this book handles the sensitive subject of a tragic natural disaster, this book perfectly pitched for years 2 and 3. It is great in explaining the daily life of Romans from a child's point of view.

Perfect for first and second graders, studying the Romans in school.
About the Author
---
Christina Balit was born in Manchester but grew up in the Middle East. She studied at Chelsea School of Art and the Royal College of Art, and also attended Morley Theatre School and Questors Theatre School. She has exhibited widely and is also a playwright. Her books have won several nominations, commendations and a shortlist place for the Kate Greenway Medal.
Kingdom of the Sun
(written by Jaqueline Mitton), won the 2002 English Association Award for non-fiction.
To learn more about Christina Balit click here