Science Comics: The Brain: The Ultimate Thinking Machine (Paperback)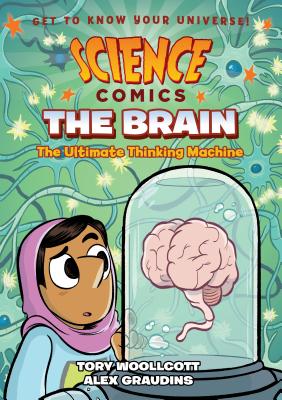 Description
---
With Science Comics, you can explore the depths of the ocean, the farthest reaches of space, and everything in between! These gorgeously illustrated graphic novels offer wildly entertaining views of their subjects.

In this volume, Fahama has been kidnapped by a mad scientist and his zombie assistant, and they are intent on stealing her brain! She'll need to learn about the brain as fast as possible in order to plan her escape!

How did the brain evolve? How do our senses work in relation to the brain? How do we remember things? What makes you, YOU? Get an inside look at the human brain, the most advanced operating system in the world . . . if you have the nerve!
About the Author
---
Tory Woollcott is a cartoonist, writer and literacy educator & advocate who lives in Toronto, Canada with her husband and her minor Internet celebrity dog, Reginald Barkley. Her first graphic novel, Mirror Mind, was an autobiographical memoir about growing up with dyslexia. She has since written and drawn other autobio comics, fairy tales for kids, and a sci-fi audio drama. Tory loves brains and all the fun stuff that comes out of them!

Alex Graudins is a cartoonist and illustrator currently living in Rhode Island. She is a graduate of the School of Visual Arts' Cartooning class of 2016. Science Comics: The Brain is her first book!
Praise For…
---
Praise for the Science Comics series:

"This series—written by a handful of authors—seems determined to offer a useful introduction to anything a curious grade-school student might wonder about. The insight behind these books is a powerful one. So much information about the world around us is actually better conveyed visually, through charts, illustrations, and sequential panels, than purely using words." —New York Times

"Like having a Time Life Science Library in comic books. Which is awesome!" —Popular Science


Praise for Science Comics: The Brain:

"Graudins' cartoons help break down the academic concepts without being patronizing and, happily, while making learning fun. A particularly well-executed and thought-provoking installment in this reliable nonfiction series." —Booklist, starred review