Mama Miti: Wangari Maathai and the Trees of Kenya (Hardcover)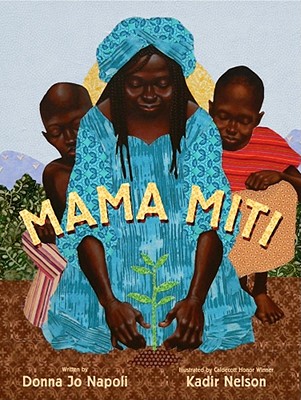 $19.99
Usually Ships in 1-5 Days
Spring 2010 Kids' Next List
---
"Donna Jo Napoli tells the inspiring story of 2004 Nobel Peace Prize recipient Wangari Maathai and her efforts to revive her country of Kenya. Kadir Nelson's collage illustrations convey the story beautifully."
— Rosemary Pugliese, Quail Ridge Books, Raleigh, NC
Description
---
"Nelson's pictures, a jaw-dropping union of African textiles collaged with oil paintings, brilliantly capture the villagers' clothing and the greening landscape…This is, in a word, stunning." —Kirkus Reviews (starred review)

"Nelson's (We Are the Ship) breathtaking portraits of Maathai often have a beatific quality; bright African textiles represent fields, mountains, and Maathai's beloved trees…Napoli (The Earth Shook) creates a vivid portrait of the community from which Maathai's tree-planting mission grows." —Publishers Weekly (starred review)

"A beautiful introduction for children just learning about the Greenbelt Movement." —School Library Journal

Anne Izard Storytellers' Choice Award
CBC/NCSS Notable Social Studies Trade Book
CCBC Choices (Cooperative Children's Book Council)
California Collections
NAACP Image Award Nominee

Through artful prose and beautiful illustrations, Donna Jo Napoli and Kadir Nelson tell the true story of Wangari Muta Maathai, known as "Mama Miti," who in 1977 founded the Green Belt Movement, an African grassroots organization that has empowered many people to mobilize and combat deforestation, soil erosion, and environmental degradation. Today more than 30 million trees have been planted throughout Mama Miti's native Kenya, and in 2004 she became the first African woman to win the Nobel Peace Prize. Wangari Muta Maathai has changed Kenya tree by tree—and with each page turned, children will realize their own ability to positively impact the future.
About the Author
---
Donna Jo Napoli is the acclaimed and award-winning author of many novels, both fantasies and contemporary stories. She won the Golden Kite Award for Stones in Water in 1997. Her novel Zel was named an American Bookseller Pick of the Lists, a Publishers Weekly Best Book, a Bulletin Blue Ribbon, and a School Library Journal Best Book, and a number of her novels have been selected as ALA Best Books. She is a professor of linguistics at Swarthmore College in Pennsylvania, where she lives with her husband. Visit her at DonnaJoNapoli.com.

Kadir Nelson is an award-winning American artist whose works have been exhibited in major national and international publications, institutions, art galleries, and museums. Nelson's work has won the Coretta Scott King Award, the Robert F. Sibert Award, two Coretta Scott King Illustrator Honor Awards, and the 2005 Society of Illustrators Gold Medal. His beloved, award-winning, and bestselling picture books include We Are the Ship: The Story of Negro League Baseball; Thunder Rose, written by Jerdine Nolen; Ellington Was Not a Street, written by Ntozake Shange; Salt in His Shoes, written by Deloris Jordan and Roslyn M. Jordan; and many more. Kadir lives in Los Angeles.
Praise For…
---
* "Nelson's pictures, a jaw-dropping union of African textiles collaged with oil paintings, brilliantly capture the villagers' clothing and the greening landscape…. This is, in a word, stunning."

—Kirkus, STARRED REVIEW

* "Nelson's (We Are the Ship) breathtaking portraits of Maathai often have a beatific quality; bright African textiles represent fields, mountains, and Maathai's beloved trees… Napoli (The Earth Shook) creates a vivid portrait of the community from which Maathai's tree-planting mission grows."

—Publishers Weekly, STARRED REVIEW

"A beautiful introduction for children just learning about the Greenbelt Movement."

—School Library Journal

"Luminous illustrations are the highlight of this third recent picture-book biography of Wangari Maathai, the Kenyan environmental activist who received the 2004 Nobel Peace Prize. In brief, poetic lines thathave a folktale tone, Napoli describes how "wise Wangari" helped Kenyan village women solve problems from hunger to dirty water with the same solution: "Plant a tree." Most noteworthy is Nelson's vibrant collage artwork, which features soaring portraits and lush landscapes in oil paint and printed fabrics."

—Booklist

"Illustrator Kadir Nelson intensifies the text's tribute to East African culture, mixing oil paints and textiles in collages that capture the quest of women looking for answers as well as the beauty and vastness of Maathai's project . . Especially dazzling… Makes vibrantly clear how strong and resourceful Maathai and other African women have been in restoring trees and peace to their world."

—The Washington Post

"This picture book glows from every page as Napoli and Nelson write and illustrate the inspiring story of ecologist and Nobel Peace Prize winner Wangari Maathai…. A lovely, stirring picture book with a simple message for us all: in the midst of change, development, and upheaval, there is always a place for wisdom and peace."
— Mark David Bradshaw, Watermark Books, Kansas

"Will inspire children of all ages."

—Ellen Scott, The Bookworm, Omaha, Nebraska

"This is the true story of Wangari Muta Maathi, a Kenyan woman who helped to bring trees back to a sadly deforested country. Her grassroots efforts to help her people and the environment at the same time had a profound effect not only on Kenya, but on people all over the world who heard her story and who learned her lessons. With a lyrical text and stunning multimedia art, this picture book is a must for every reader, both young and not so young." -- Through the Looking Glass Children's Book Review

"Mama Miti is based on the amazing life of Wangari Maathi (2004 Nobel Peace Prize recipient), who grew up in Nyeri, Kenya, and turned her love of nature and trees into grassroots movement to combat deforestation. The illustrations by Nelson capture the beauty of the Motherland with vibrant colors and flattering images. " -- Ebony Magazine