On the Shoulders of Giants: My Journey Through the Harlem Renaissance (Paperback)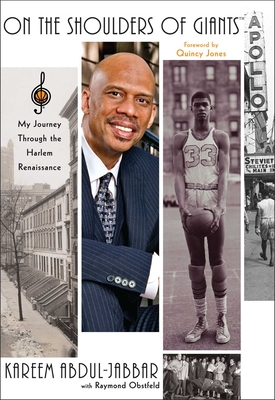 About the Author
---
Kareem Abdul-Jabbar is recognized by Sports Illustrated and Time magazine as history's greatest basketball player (he is the NBA's all-time leading scorer). The author of several New York Times bestsellers, Kareem's previous books include Giant Steps, Kareem, Black Profiles in Courage, A Season on the Reservation, and Brothers in Arms. Since his retirement as a player in the NBA, Kareem has worked as a special assistant coach for the Los Angeles Lakers and acted as a volunteer coach for children on the White Mountain Apache reservation in Whiteriver, Arizona. On the Shoulders of Giants is currently in production as a documentary film.

Raymond Obstfeld is an associate professor of English at Orange Coast College, and is the author of more than forty books of fiction, poetry, and nonfiction, including studies of the Italian Renaissance, Napoleon Bonaparte, and Moby-Dick.
Praise For…
---
"Kareem has offered his own unique perspective to the story of the Harlem Renaissance. By doing so, he has provided a moving history of a cultural place and time that can be experienced by our children and grandchildren. As the saying goes, to know where you are going, you must know from whence you came. We came on the shoulders of giants."
-- Muhammad Ali



"Besides being a great athlete, Kareem Abdul-Jabbar is one of the most intelligent individuals I have ever met. The passion he has for his heritage is something that all African-Americans should be inspired by."
-- Jim Hill, CBS Sportscaster



"On the Shoulders of Giants will be another success for Kareem Abdul-Jabbar. Working with him daily we've shared our love of jazz and he has not only the knowledge of its history, but its place of import in a community that he grew up in during the latter stages of the Harlem Renaissance. I've been behind those shoulders when he's turned for that sky hook and this will be another score for Kareem."
-- Phil Jackson, Head Coach, Los Angeles Lakers



"Kareem Abdul-Jabbar has created his next sky hook with this newest literary effort. He has skillfully interwoven his two biggest passions-basketball and jazz-and provides a greater understanding of how closely related they are."
-- Spike Lee



"As I watch younger generations idolize sports and entertainment figures today, my greatest hope is that they will be sufficiently attracted to Kareem's iconic and legendary status to pick up On the Shoulders of Giants. It will help teach them who they are, how they arrived there and help them to take their own places in history."
-- James Briggs Murray, Curator, Schomburg Center for Research in Black Culture



"Because of his public display of physical and personal grace, I welcome Kareem Abdul-Jabbar's book On the Shoulders of Giants."
-- Maya Angelou



"During the Harlem Renaissance of the '30s, the African-American community responded to relentless oppression, segregation and disenfranchisement by exploding with an outburst of artistic and political achievement that has never been duplicated in American history. Perhaps Kareem Abdul-Jabbar's vivid and moving rendering of that time in On the Shoulders of Giants can inspire the next generation to connect to that rich artistic history and thereby overcome the 'get rich or die tryin'' mentality to once again ascend to heights of accomplishment which truly manifests their capabilities."
-- Herbie Hancock



"The brilliance of Kareem Abdul-Jabbar was never limited to on-court accomplishments, and On the Shoulders of Giants is another shining example of this. Kareem re-opens the door to history and captures the essence, energy, creativity and spirit of the Harlem Renaissance and the influential artists and players who defined that era."
-- David J. Stern, NBA Commissioner



"When I contrast the mature and thoughtful perspective expressed here with the inanity and self-absorption of so much of the modern sports world, I am moved to ask not 'where have you gone, Joe DiMaggio?'...but, 'where have you gone, Arthur Ashe? Where have you gone, Kareem?' Well, luckily Kareem has not left and gone away. You just need to look for him in the pages of this remarkable book."
-- Bob Costas



"With the same passion and grace that he played with, Kareem takes us into his heart and soul in On the Shoulders of Giants. His history of Harlem and his family, and all their gifts to him and society is quite profound. By taking this personal revealing journey to Harlem's past, Kareem is preparing us for its present and future. What other superstar athlete could write a book like this?"
-- Billy Crystal