Toys!: Amazing Stories Behind Some Great Inventions (Paperback)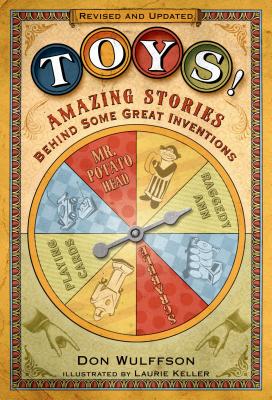 Description
---
A fresh, intriguing look at the stories behind great toy inventions, by Don Wulffson and illustrated by Laurie Keller.
"Originally, Play-Doh only came in white. There's a good reason for this. You see, Play-Doh didn't start out as a toy. It started out as a product for cleaning wallpaper."
Have you ever wondered who invented Lego, Mr. Potato Head, or toy trains? In Toys! are the fascinating stories behind these toy inventions and many others. Learn why the see-saw was popular with the Romans, how the Slinky was used during the Vietnam War, and the reason Raggedy Ann has a red heart on her chest that says "I love you." From dolls and checkers to pinball and the modern video game, there's a wide selection here for boys and girls alike.
With humor and wit, this intriguing book serves up slices of cultural history that will inspire young readers to start thinking up their own toy inventions.
About the Author
---
Don Wulffson is the author of many books for young readers, including Toys! and The Kid Who Invented the Popsicle and Other Strange Inventions. A teacher of English and creative writing, Mr. Wulffson is the recipient of the Leather Medal Award for Poetry. He lives with his family in Northridge, California.
Laurie Keller is the bestselling author-illustrator of many books for kids, including Do Unto Otters; Potato Pants!; The Scrambled States of America; the Geisel Award-winning We Are Growing!; and Arnie the Doughnut, as well as three books in the Adventures of Arnie the Doughnut chapter book series.
Growing up in Michigan, Laurie always loved to draw, paint and write stories. She earned a B.F.A. at Kendall College of Art and Design, then worked at Hallmark Cards in Kansas City as a greeting card illustrator for seven years. One night, the idea for a children's book popped into her head and after showing the story to several publishers in New York City, she quit her job and moved there. The following year, that story idea was a published book—The Scrambled States of America. Laurie loved living in NYC, but she returned to her home state, where she lives in the woods along the shores of Lake Michigan.
Praise For…
---
"Lighthearted text and humorous drawings convey amusement and appreciation for these inspired creations." —School Library Journal
"An interesting read for anybody who appreciates the inventive mind and entrepreneurial spirit." —Knight Ridder Newspapers