ARRIVAL: Poems (Paperback)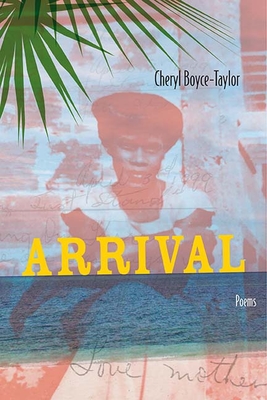 Email orders@wordupbooks.com for price.
Special Order - Please contact us for availability: orders@wordupbooks.com.
Description
---
Finalist, 2018 Paterson Poetry Prize 

ARRIVAL is a poetic love story between mother and daughter. The poems are road maps, intertwining generations with a narrative beginning in 1950 with a woman who is pregnant with twins. In her seventh month she delivers a stillborn boy and a baby girl weighing less than two pounds. From there, the evocation of a series of catastrophic family events brings forth Cheryl Boyce-Taylor's power to strip her readers down to their most vulnerable. Boyce-Taylor is steeped in the narratives of Trinidad and New York City, colored with metaphorical stew-pot images. She revels in her lyrical range as she weaves these poetic retellings of family, place, and identity.
About the Author
---
CHERYL BOYCE-TAYLOR, Trinidad born and Queens bred, is a poet and visual and teaching artist. The author of two collections of poetry, Raw Air and Night When Moon Follows, and a recipient of a Partners in Writing grant, Boyce-Taylor served as poet-in-residence at the Caribbean Literary and Cultural Center in Brooklyn. Her poems have been anthologized in various publications, including Def Poetry Jam's Bum Rush the Page, Poetry Nation, Rogue's Scholar, In Defense of Mumia, Bloom, Catch the Fire!!!, and Aloud: Voices from the Nuyorican Poets Cafe. She is the recipient of the 2015 Barnes & Noble Writers for Writers Award. 
Praise For…
---
"Boyce-Taylor's bold new collection slyly and directly engages topics that have preoccupied major poets for centuries—mortality, cultural heritage, blood belonging, alienation, love, and the challenge of holding nature to the page. Readers will be enriched and enlivened by the grace and compassion at the heart of this casually polyphonic artist."—Colin Channer, author of Providential and The Girl with the Golden Shoes

"I sat outside in the shade of some Philly maples and read this book. And it is a book—not a "project." It rises from the kind of love, kind of body that I know. I've been thinking so much of departures lately. And so have you, but you've had the wisdom to notice the arrivals. Just beautiful. Cheryl Boyce Taylor writes 'A woman's body has everything/in it to save her life.' That means poems, too—for in Arrival, body departs from beloveds, from family, from home, from the body itself, and returns to take shape in these gorgeous elegiac lyrics, wise and free and full of the weeping and laughter that might just help you survive." —Patrick Rosal, author of Boneshepherds
"Like scent, that most powerful bearer of memory, so too is language, especially the mother tongue.  Especially where mother tongue is born in a mother's land, distant and mostly past tense. Here, Boyce-Taylor brings us to that sense of scent that travels in and forth from the innermost of the body.  I find myself chewing and sipping the lines—both amuse-bouche and entrée!  'I am a little girl.  I am on an island.  I can understand the grownups.  I had better. And I had better understand my self.'  That and speaking is a form of remembering and of moving forward—whether rage or pleasure. 
In her words:
here daughter
something for your journey     the small fruit     heavy     in the box.
Boyce-Taylor will sweep you up in her pages with the scent of language.  She will present you with the of craft of poetry can offer: precise, glowing, and painfully beautiful language set to a cadence that moves inside the body even after the poem has closed.  A stunning contribution to contemporary poetry!" —Kimiko Hahn, author of Brain Fever
"...the book is unmistakably elegiac but its sorrows are made sharper by grace notes of humor... Covering thousands of miles, many decades and an array of contrasting landscapes, the arrival that Arrival arrives at is no less than a 'family geography' remarkable for its concision and depth." —The New York Times Book Review 

"Cheryl Boyce-Taylor takes us to glorious Trinidad with its dialect, eggplant, mangoes, lime-laden trees, banana leaves. Each place is a house for a story, a person, a relationship...Boyce-Taylor reaches beyond her native country, beyond herself, with archetypal language, and emotional endurance." —Midwest Book Review: Reviewer's Bookwatch