Honor Girl: A Graphic Memoir (Paperback)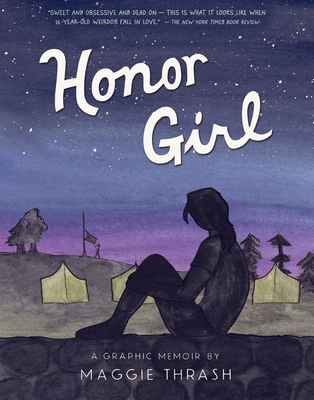 Email orders@wordupbooks.com for price.
Staff Reviews
---
This graphic memoir is a tale of a strange place - a summer camp in the American South unchanged since the author's grandmother was a girl - where the author is trying to do a (somewhat) strange thing: win a shooting badge. She also ends up falling in love. This story of rivalry, queer romance and lots and lots of bulls-eyes will stay with you for a long time.
— Word Up Volunteer - Ellen L.
Description
---
"Thrash has so carefully and skillfully captured a universal moment. . . . A luminescent memoir not to be missed."— Kirkus Reviews (starred review)

All-girl camp. First love. First heartbreak. At once romantic and devastating, brutally honest and full of humor, this graphic-novel memoir is a debut of the rarest sort.
About the Author
---
Praise For…
---
In this graphic memoir, Thrash writes with confidence and skill remarkable for a debut.
—The New York Times

Thrash's remembrances are evinced with clear, wide-eyed illustrations colored with a dreamily vibrant palette. She has so carefully and skillfully captured a universal moment—the first time one realizes that things will never be the same—that readers will find her story captivating. A luminescent memoir not to be missed.
—Kirkus Reviews (starred review)

In this poignant memoir, Thrash examines a pivotal summer, marked by first love, self-discovery, and some difficult realizations...The tone is spot-on, varying from funny and quirky to quiet and contemplative, and Thrash seamlessly weaves in light, turn-of-the-millennium pop culture touchstones like the Backstreet Boys with darker historical references (the "Don't Ask, Don't Tell" policy)... An insightful and thought-provoking work.
—School Library Journal (starred review)

Thrash writes with an intoxicating mix of candor, irony, and fresh passion. Much of the memoir's piquancy comes from the collisions between the camp's ideal of Southern womanhood, the campers' clannishness, and Maggie's faith in herself as she becomes, incongruously, the camp's best rifle shot. This is the kind of memoir that stays with readers for days.
—Publishers Weekly (starred review)

Thrash's unvarnished retelling of her adolescent experience is neither glamourizing nor self-deprecating—and the salty realism makes the story engrossing and quite funny. Though lesbian and questioning teens may be especially responsive to the narrative, any young reader will see in Maggie and her friends a relatable sort of confident confusion.
—Shelf Awareness (starred review)

This honest, raw, and touching graphic memoir will resonate with teens coming to terms with identities of all stripes, regardless of sexual orientation.
—Booklist

This is immediately engrossing, both poignant and hilarious, as the personable and likeable Maggie nails typical adolescent experiences with particularly wicked camp descriptions. While loosely based on the author's circumstances, Maggie's portrayal of her first love and heartbreak is everyone's story, whether gay or straight, male or female. Maggie's emotions are sharply honest, with readers feeling her exhilaration, anxiety, awkwardness, confusion, and pain.
—VOYA

In this graphic novel, deceptively simple drawings in a mostly dreamy palette work well to capture big, sweeping emotions of the camp experience...
—Bulletin of the Center for Children's Books

Readers may recognize themselves in Maggie's halting steps toward adulthood and self-awareness...
—Literacy Daily

Thrash's graphic memoir presents a love story with which every reader will be able to identify...Honor Girl will be a page-turner leaving readers with many unresolved questions, a scenario familiar to LGBT and straight teens alike.
—School Library Connection

[Wipes away tear.] Honor Girl is, all at once, heartachey (but never precious), dry-witted (but not cynical), and incredibly beautiful. Maggie Thrash has not only given us a unique addition to the canon of intelligent-young-woman-centered comics, but a reminder of the rewards of opening yourself up and exposing your own vulnerability – in love and in writing.
—Tavi Gevinson

Though I am neither a teenage girl nor a lesbian, I found this story super-real and relatable.
—Ira Glass, host of This American Life

Honest, funny, and so real you can smell summer camp while you read it, Maggie Thrash's Honor Girl hits dead center.
—A.S. King, award-winning author of Ask the Passengers and Glory O'Brien's History of the Future

Honor Girl beautifully portrays the awkward excitement and heartbreak of first and forbidden love. I couldn't put it down, even while my heart was aching. I loved this book!
—Jo Knowles, author of See You at Harry's and Read Between the Lines

Graphic memoirs are my JAM, and I love this coming-of-age story from Maggie Thrash. It recounts Thrash's experiences at a Christian summer camp as a teenager, and her basically trying to figure out if something was wrong with her because she was attracted to girls. It sounds sad, but Thrash keeps it from being depressing with her lively story and honesty.
—Book Riot (blog)