Adventures in Cartooning: Characters in Action! (Prebound)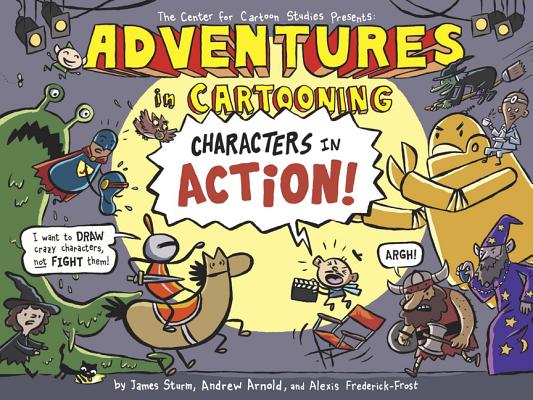 Email orders@wordupbooks.com for price.
Description
---
The Knight, Edward the chubby horse, and of course the Magic Cartooning Elf are back for more fun, but this time they're sharing the stage with a host of new characters. In "Adventures in Cartooning: Characters In Action "you'll learn how to create your own kooky characters. And fresh faces are needed -- the famous director Otto Airs is making a movie, and he's invited everyone in the kingdom to audition It's your chance to dream up boatloads of wacky characters to star in the film. Discover how body language and expression are used to tell a story, dress a wizard to the nines, and choose the perfect rogue robot. After following the heroes on their cartooning adventure, you'll be ready to create characters to star in your own comic book.
About the Author
---
James Sturm is acartoonist whose books include" The Golem's Mighty Swing, Market Day, " and" Satchel Paige: Striking Out Jim Crow." He is the co-founder of The Center for Cartoon Studies where he currently serves as the school's director. Alexis Frederick-Frost is a co-author and illustrator of the "Adventures in Cartooning "series of graphic novels. Alexis's illustrations have appeared in a variety of publications by Nickelodeon Magazine, First Second Books, and others. Alexis currently lives with his wife in South Carolina. Andrew Arnold is one of the co-authors of the "Adventures in Cartooning" series. His work has appeared in several publications, including Nickelodeon Magazine and Cambridge University Press. Originally from Houston, Texas, Andrew currently lives in New York City.