Hi, Koo!: A Year of Seasons (Hardcover)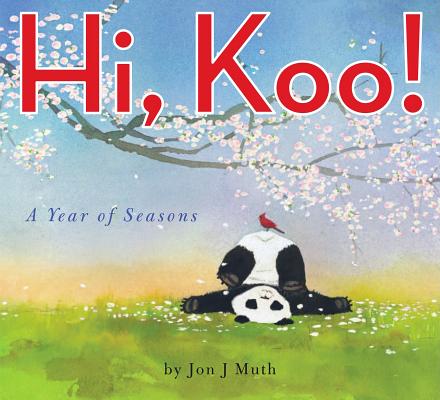 Email orders@wordupbooks.com for price.
Description
---
Caldecott Honoree and NEW YORK TIMES bestselling author/artist Jon J Muth takes a fresh and exciting new look at the four seasons!

Eating warm cookies
on a cold day
is easy

water catches
every thrown stone
skip skip splash

With a featherlight touch and disarming charm, Jon J Muth--and his delightful little panda bear, Koo--challenge readers to stretch their minds and imaginations with twenty-six haikus about the four seasons.
About the Author
---
Jon J Muth has written and illustrated many enchanting picture books, including his Caldecott Honor Book ZEN SHORTS and its sequel, the NEW YORK TIMES bestselling picture book ZEN TIES. Other beloved titles from Jon include THE THREE QUESTIONS, GERSHON'S MONSTER by Eric Kimmel, and THE CHRISTMAS MAGIC by Lauren Thompson. Muth lives in upstate New York with his wife and five children.
Praise For…
---
Praise for ZEN SHORTS

-Caldecott Honor Book, Charlotte Zolotow Award, Parents' Choice Award, Book Sense Book of the Year, Bank Street Best Book of the Year

* "Every word and image comes to make as perfect a picture book as can be." -- KIRKUS REVIEWS, starred review
* "Like The Three Questions (2002), Muth's latest is both an accessible, strikingly illustrated story and a thought-provoking meditation." -- BOOKLIST, starred review

Praise for ZEN TIES

-NEW YORK TIMES Bestseller
-NAIBA Best Book of the Year

* "Stillwater . . . continues to combine his slow-moving grace with genuine spiritual tranquility. Muth's brush is as sure as ever. . . . From a religious tradition that makes no theological demands and that will be unfamiliar to most readers, Stillwater offers a model of pure saintliness, and children will instantly respond to him." -- PUBLISHERS WEEKLY, starred review

Praise for ZEN GHOSTS

"Stunning." -- USA TODAY; featured in recommended list of Halloween books
* "Haunting in multiple senses of the word, this tale should captivate thoughtful readers, as Muth's watercolors convey a world of infinite possibility and gentle enchantment." -- PUBLISHERS WEEKLY, starred review



Praise for Hi, Koo! : A Year of Seasons :

- 2015 ALA Notable Children's Books List Award Winner

Kirkus Starred Review
Long before photography, poets took to haiku, the poetic equivalent of a snapshot, and painters to the suggestive medium of watercolor to capture the essence of moments in nature.
Caldecott Honoree Muth (Zen Shorts, 2005) employs both, with the help of his playful panda Koo, to present 26 moments through the seasons. Though light in tone and geared toward pre-reader eyes and interests, the mostly outdoor scenes Muth depicts command serious attention from all. The first page simultaneously demonstrates both Muth's adherence to haiku's three-line form rather than its traditional five-seven-five syllabic sequence and his exquisite use of white space. "Autumn, / are you dreaming / of new clothes?" reads the text as Koo reaches up to try to catch a handful of falling leaves. One of the few scenes referencing indoor living hilariously comes in early spring: "too much TV this winter / my eyes are square / let's go Out and play." Two children and Koo stand in front of a large television, the whites of the children's eyes boxed and zombielike and Koo's, two solid black squares. A more reflective, deeply moving spring moment finds the children alone with a book in the woods, Muth's delicate watercolor and subtle inking deftly suggesting the forest's shifting scope.
Throughout, condensed poetic image coupled with spare illustration yields huge effect; in a word, magical.