The Kingdom of This World: A Novel (FSG Classics) (Paperback)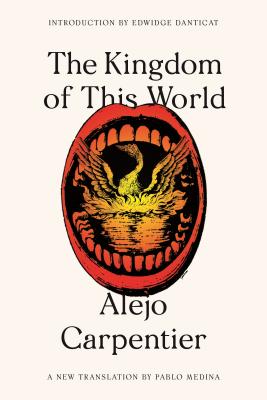 $15.00
Usually Ships in 1-5 Days
Description
---
A masterful new translation of a haunting novel of nineteenth-century Haiti
A few years after its liberation from harsh French colonial rule in 1803, Haiti endured a period of great brutality under the reign of King Henri Christophe, who was born a slave but rose to become the first black king in the Western Hemisphere. In this unnerving novel from one of Cuba's most celebrated authors, Henri Christophe's oppressive rule is observed through the eyes of the elderly slave Ti Noël, who suffers abuse from masters both white and black. As he ranges across the country searching for true liberation, Ti Noël navigates bloody revolutions, maniacal rulers with false visions of grandeur, and the mysterious power of voodoo magic.
First published in English translation in 1957, The Kingdom of This World is now widely recognized as a masterpiece of Cuban and Caribbean literature. Pablo Medina's remarkable new translation renders the dreamlike prose of Alejo Carpentier with nuance and felicity while delivering anew a powerful novel about the birth of modern Haiti. Visionary and singularly twisted, The Kingdom of This World emerges from the depths of the struggle for a country into a tale of race, erotomania, magic, and madness.
About the Author
---
Alejo Carpentier was born in Havana in 1904. He lived for many years in France and Venezuela but returned to Cuba after the revolution. One of the major Latin American writers of this century, he is the author of The Lost Steps, Explosion in a Cathedral, and The Chase. He died in Paris in 1980.

Pablo Medina is a Cuban-born writer and translator. He has written sixteen books of poetry, fiction, and memoir including Cubop City Blues, TheCigar Roller, and Exiled Memories: A Cuban Childhood. He has translated the work of Virgilio Piñera and Federico García Lorca and has been awarded grants from the Rockefeller Foundation, the National Endowment for the Arts, the Guggenheim Foundation, The Cintas Foundation, and others. He is currently professor of fiction, poetry, and translation at Emerson College in Boston.

Edwidge Danticat is the author of several books, including Breath, Eyes, Memory, an Oprah's Book Club selection; Krik? Krak!, a National Book Award finalist; The Farming of Bones, an American Book Award winner; and the novel-in-stories, The Dew Breaker. She is the editor of The Butterfly's Way: Voices from the Haitian Diaspora in the United States and The Beacon Best of 2000: Great Writing by Men and Women of All Colors and Cultures, Haiti Noir and Haiti Noir 2, and Best American Essays 2011. She has written several books for young adults and children—Anacaona, Behind the Mountains, Eight Days, The Last Mapou, Mama's Nightingale, and Untwine—as well as a travel narrative, After the Dance, A Walk Through Carnival in Jacmel. Her memoir, Brother, I'm Dying, was a 2007 finalist for the National Book Award and a 2008 winner of the National Book Critics Circle Award for autobiography. She is a 2009 MacArthur Fellow.