Criminal Intimacy: Prison and the Uneven History of Modern American Sexuality (Paperback)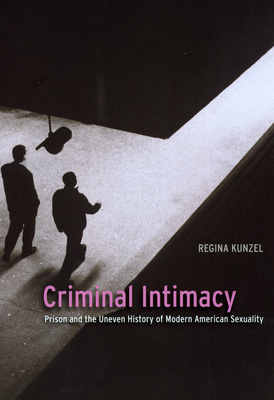 Email orders@wordupbooks.com for price.
Usually Ships in 1-5 Days
Description
---
Sex is usually assumed to be a closely guarded secret of prison life. But it has long been the subject of intense scrutiny by both prison administrators and reformers—as well as a source of fascination and anxiety for the American public. Historically, sex behind bars has evoked radically different responses from professionals and the public alike. In Criminal Intimacy, Regina Kunzel tracks these varying interpretations and reveals their foundational influence on modern thinking about sexuality and identity.
Historians have held the fusion of sexual desire and identity to be the defining marker of sexual modernity, but sex behind bars, often involving otherwise heterosexual prisoners, calls those assumptions into question. By exploring the sexual lives of prisoners and the sexual culture of prisons over the past two centuries—along with the impact of a range of issues, including race, class, and gender; sexual violence; prisoners' rights activism; and the HIV epidemic—Kunzel discovers a world whose surprising plurality and mutability reveals the fissures and fault lines beneath modern sexuality itself.
Drawing on a wide range of sources, including physicians, psychiatrists, sociologists, correctional administrators, journalists, and prisoners themselves—as well as depictions of prison life in popular culture—Kunzel argues for the importance of the prison to the history of sexuality and for the centrality of ideas about sex and sexuality to the modern prison. In the process, she deepens and complicates our understanding of sexuality in America.
About the Author
---
Regina Kunzel is professor of history, professor of gender, women, and sexuality studies, and the Paul R. Frenzel Land Grant Chair in Liberal Arts at the University of Minnesota. She is the author of Fallen Women, Problem Girls: Unmarried Mothers and the Professionalization of Social Work, 1890–1945.
Praise For…
---
"Criminal Intimacy is simply the best book on the history of sexuality that I've read in some time. Kunzel has tackled a conceptually and historically elusive topic and treated it with a sure critical sense, a broad chronological sweep, a delicate and subtle tact, and an enviable common sense. She has synthesized a mass of material to produce a coherent narrative, foregrounding issues of class, race, and gender in her analysis without sacrificing complexity or detail. It is beautifully and economically written and a pleasure to read—this is not just a good book, but a major one."—David Halperin, author of How to Do the History of Homosexuality
— David Halperin
"Criminal Intimacy shows how the inside world of prison culture both reflects and shapes the outside world's understanding of sexuality. In prose that is lucid, economical, and often elegant, Kunzel offers a sophisticated and persuasive argument that complicates the dominant historical narrative about the emergence of modern homosexuality. The research is prodigious and the primary materials are deftly incorporated throughout this impressive book."—Estelle B. Freedman, author of No Turning Back: The History of Feminism and the Future of Women
— Estelle B. Freedman
"Regina Kunzel has written a pathbreaking study of prison sexual culture from the origins of the penitentiary to the AIDS crisis. She reveals the complex history of inmates' same-sex encounters and traces the shifting explanations for prison homosexuality advanced by officials, reformers, and activists. Criminal Intimacy revises our understanding of modern sexual identity, showing how much homosexuality and heterosexuality have been unstable and unconsolidated categories. This is one of the most significant books on the history of American sexuality in recent years. "
— Kathy Peiss, author of Hope in a Jar: The Making of America's Beauty Culture
"Written with elegance and argued with verve. In this brilliant analysis, Kunzel uses sex in prison to rewrite the history of modern sexual identity. Through meticulous research, she shows us how concerns about sex refracted shifting anxieties about class, race, gender, family, and violence. A sleek, smart, and important book."
— Joanne Meyerowitz, author of How Sex Changed: A History of Transsexuality in the United States
"Criminal Intimacy successfully conveys the continued sidelining of the complexities of sex in prisons. For even in the face of the constant fear of violence in so many American prisons, Kunzel depicts a world in which sexual love between men, or between women, once it is given the attention it deserves, can still threaten to unsettle dominant conceptions of stable sexual identities. It is this that makes Kunzel's book essential reading for anyone interested in learning more about the multifarious exchanges between sexuality and identity, in any context."
— Times Higher Education
"Kunzel's fascinating history of the changing attitudes toward same-sex sex in prisons challenges views of sexuality and gender identity as simple or immutable."
— Choice
"This much-anticipated book does not disappoint. Regina Kunzel not only offers a long-overdue, rich account of sex in prisons, but uses the institution's position . . . to obtain an important new perspective on modern sexuality. . . . This book will change the way you look at modern sexuality."
— Stephen Robertson
"[Kunzel] succeeds magnificently in tracing the shifting multiple understandings of sex in prison, with all its complex gender, class, and racial dynamics. . . . This is an important contemporary story. If we thought for a moment that sex in prison was something that happened far away to other people, Kunzel makes us think again."
— Leila J. Rupp