The Short & Curly Guide to Life (Paperback)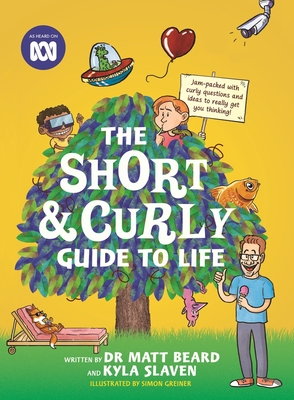 Email orders@wordupbooks.com for price.
Special Order - Please contact us for availability: orders@wordupbooks.com.
Description
---
What makes something good or bad? Why are things the way they are? How come it's so hard to work out the right thing to do? The Short & Curly Guide to Life is an imaginative look at some of life's biggest and trickiest questions. Figuring out what's right is way more fun than you think!

You'll find yourself wondering if it's okay to break a promise – even if it's in a video game! Questioning whether you would want to spend the rest of your life in an amazing virtual reality. Umming and ahhing over whether there's anything wrong with keeping an adorable baby fox as a pet. Putting ideas like fairness, what's normal and what's brave under the microscope . . . and so much more!

Covering topics such as fairness, bullying, bravery, friendship and choice, The Short & Curly Guide to Life is a must-read for every child, parent and teacher.
About the Author
---
Dr Matt Beard (Author) Dr Matt Beard is a husband, dad, pop culture nerd, moral philosopher and ethicist. Matt is a Fellow at the Ethics Centre and the resident philosopher for the kids ethics podcast Short & Curly. He appears regularly in print, radio and TV discussing ethical issues from vampires to anti-vaccination. Matt believes everyone is already a philosopher who, given the right circumstances and skills, can live a wise, enriched and ethical life. Kyla Slaven (Author) Kyla Slaven is the producer of the kids ethics podcast Short & Curly. Kyla has been making radio and podcasts for a long time – working in community radio, as a reporter at Triple J and heading up the then-new current affairs show, Hack. She also worked on the philosophy podcast (for grown ups) The Philosopher's Zone, where a chance encounter with a bunch of school kids gave her the idea for Short & Curly. Kyla loves that her job combines the serious with the silly, and the smart with the fun. Simon Greiner (Illustrator) Simon Greiner is an illustrator who lives in Sydney, Australia, with his beautiful wife and two boys. His work has appeared all over the place, including the front cover of the New Yorker magazine, as well as the kids' book Regal Beagle.